HGLRC Sector 5 V3 Freestyle frame 5 Inch for FPV Racing Drone Compatible with 5.8G VTX and DJI Air Unit
-No Props in view
No more props in view with the V3. Enjoy the clear view of flying!
-Adjustable camera mount angle
Adjust the angle of the camera mount from 25°, 30°, 35° to 40° to suit your needs.
-Capacitor slot to hide the capacitor for a neater look
Cannot find the capacitor in the drone? it is "hidden" somewhere :)
-A complete range of TPU parts
 All the STL files of the TPU parts used in this drone will be available for free! You can always print spare parts by yourself if you have a 3D printer. Check the files here
Note: The GoPro 7 mount is not included in the package, but you can print it with the STL files shared above. For Go Pro 8 mount you can get the file here
Recommended Parts:
Flight Controller: HGLRC Zeus F722 (The most affordable & reliable F722 FC)

Brand Name:HGLRC
Model:Sector 5 V3 Frame Kit
Material:3K Carbon Fiber
Top plate thickness:2mm
Bottom plocte thickness:2mm
Middle plate thickness2mm
Camera side panel thickness:2mm
Arm Thickness:5mm
Top and middle plate spacing:25mm
Installation holes:20x20/30.5x30.5mm
Support camera:19x19/22x22mm

Sector 5 V3 Freestyle Frame 5 inch
Type:5" frame
Wheelbase:218mm
Support for propellers:up to 5.2 inches
Overall size:172.5 * 136.7mm
Weight:124.2g (excluding TPU)
Wheelbase:
6" / 260mm
7" / 290mm


Features:
Flight control installation damping system
Gopro Universal Mount
Gopro fixied bracket
Gopro Mount
Gopro lens protector
Motor protector Mount
T shaped antenna Mount
GPS Mount
SMA antenna Mount
DJI ANT antenna Mount
Base plate protector Mount
DJI Air Unit Mount
DJI FPV camera lens protector
Power cord fixed Mount
Capacitor mounting slot

Package Included:
1x 2mm top plate
1x 2mm bottom plate
1x 2mm middle plate
4x 5mm arm
2x 2mm side plate
2x M3*32mm black aluminum column
6x M3*25mm black aluminum column
3x M3*23mm black aluminum column
5x round head screw M3*25
4x round head screw M3*16
4x round head screw M3*12
12x round head screw M3*8
2x round head screw M3*6
1x round head screw M2*30
4x round head screw M2*25
4x round head screw M2*12
2x round head screw M2*6
2x round head screw M2*4
4x M2*5 black nylon column
6x M3 Self-tightening nut
10x M2 Self-tightening nut
4x antenna protection tube
12x M3*6.6 shock absorber ball
8x M2*6 shock absorber ball
2x Battery cable tie 20x200mm
2x Battery cable tie 20x250mm
1x Battery Anti-slip tape
1x Gopro Universal Mount
1x Gopro lens protector
1x Motor protector Mount
1x T shaped antenna Mount
1x GPS Mount
1x SMA antenna Mount
1x Base plate protector
1x DJI Air Unit Mount
1x DJI FPV camera lens protector
1x DJI ANT antenna Mount
1x Power cord fixed Mount

Recommended Parts:( Not Included )
Flight Controller:Zeus/F4/F7 FC
Motor:Aeolus 2207.5/Aeolus 2306.5/FD2408
ESC:35A-65A
Camera:19x19/22x22mm size
Propeller:Sector 5 - 5 ~ 5.5 Inch
Battery:4S 1500mAh ~ 6S 1600mAh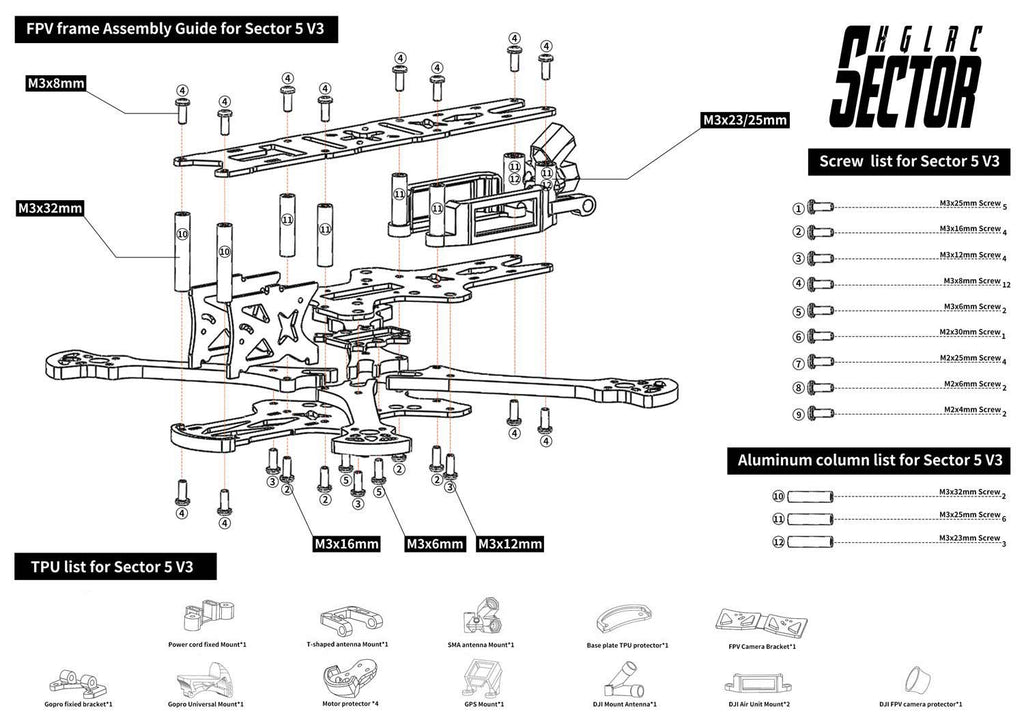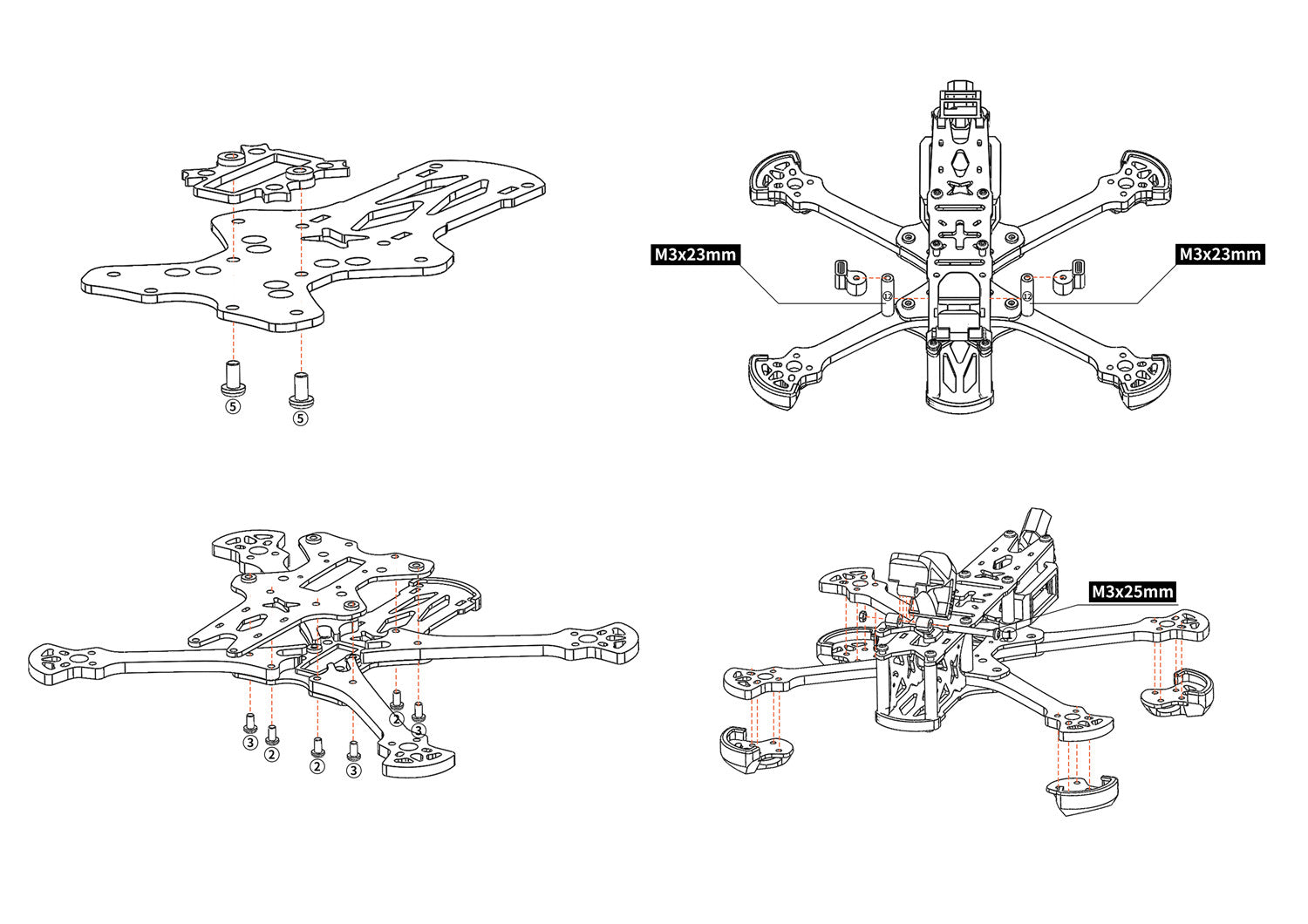 Please read all the items in this warranty before submitting a claim with HGLRC customer service. Failure to do so will result in claim being delayed or may be rejected.
HGLRC warranty
HGLRC guarantees this product to be free from defects in materials or workmanship for 60 days from the original date of purchase verified by sales receipt (not when product started to be in use).
 Warranty claims will not cover the following:
No purchasing record from HGLRC orauthorized dealers
Cut off original power plug or not using reverse polarity protected plugs
Wire damaged
Any crash damage
Humidity/Water inside
Mechanical damage of electronical components/PCB
Soldered on the PCB (except on external solder-tabs) and incorrect soldering
 If you have issues with soldering to smaller components…. STOP. Please seek professional assistance  before attempting.
Connected speed-control with reversed polarity. There are special components that are in use to detect when this happens.
  No warranty shall apply to any product that has been subject to misuse, improper testing, assembly, mishandling, or which has been operated contrary to current instructions relating to installation or maintenance or operation from the use of any equipment purchased form this store.
It is the buyer's responsibility to use the items safely and legally and to take proper measures to prevent any damage to person or property from the use of the equipment.
Repair Service
Please report any problems you are having to us via a support ticket from the product purchasing account. Please do not ship items back prior before contacting us and receiving a return authorization.
*Repair available in China, Europe & US
*Out of 60-day Warranty Period may be accepted
*Damaged item reparable or not will be assessed
*Free charge for repair excluding shipping
*The duration of the repair will depend on the extent of the damage and the availability of its parts.
Return Policy (RMA)
*RMA# (to be issued to you)
*30 days for return from the date of order delivered
*Purchasing record is required
*Shipment of incorrect product by fulfillment mistakes will be accepted
*Returned items that are rendered unsellable as a new product will be rejected.
Returns of opened packages may be accepted under some rare situations, but may be subject to a restocking fee or rejected depending on the condition of the items.
Customers returning defective items will receive either a replacement, a store credit, or a refund. Orders are eligible for refund up to 30 days after after the order delivered, otherwise store credit or replacement may be issued.
Returns of products in good working order will receive a refund for the price of the item only, not the shipping costs.
Full refund requires:
*Within 30 days of
order delivered
*Product in new condition with no wear
*All packaging included and intact
As parts of complex systems, failure of one component can result in a crash or damage to other items. HGLRC is not responsible in any way, for damage to other equipment due to a failure of a component in a system. 
People who bought this product, also bought
WORLDWIDE SHIPPING
We ship worldwide with flexible shipping methods.
Prompt Customer Service
Some companies think if your problem doesn't seem that bad they can wait a few days to reply…. We get back to you fast so you know when your problem will be resolved.
US/EUR Repair Centers
US and Europe based repair centers. You can get your quad fixed quickly if anything goes wrong. More repair centers are coming soon...
100% Satisfaction GUARANTEE
We want you to be completely satisfied with our services. We will do whatever it takes to make you happy. No hassles, no problems.