MINI SQ-D60 equipped with SQ001 Soldering Iron head|12-24V digital display Portable Intelligent Constant Temperature Electric Soldering Iron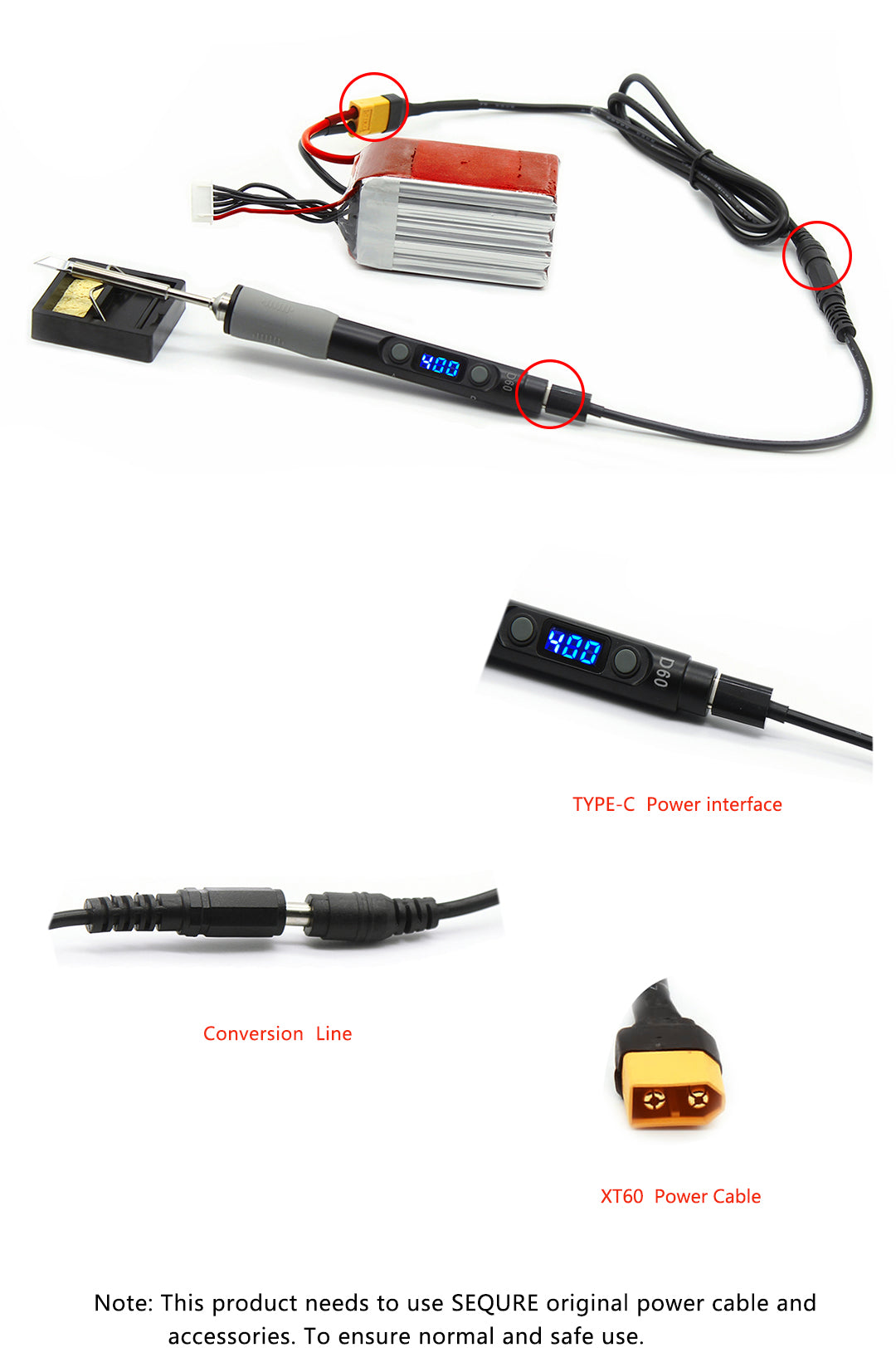 Model: SQ-D60A  (Note: LED version, below referred to as "A version")
       SQ-D60B (Note: Digital tube version,  below referred to as "B version")
Power: 60W
Power supply: DC12-24V     TYPE-C interface
Temperature range:  A version: 280 ℃, 350 ℃ , 400 ℃(choices)
                         B version: 100-400 ℃ (Adjustable)

Comparison of A and B soldering irons: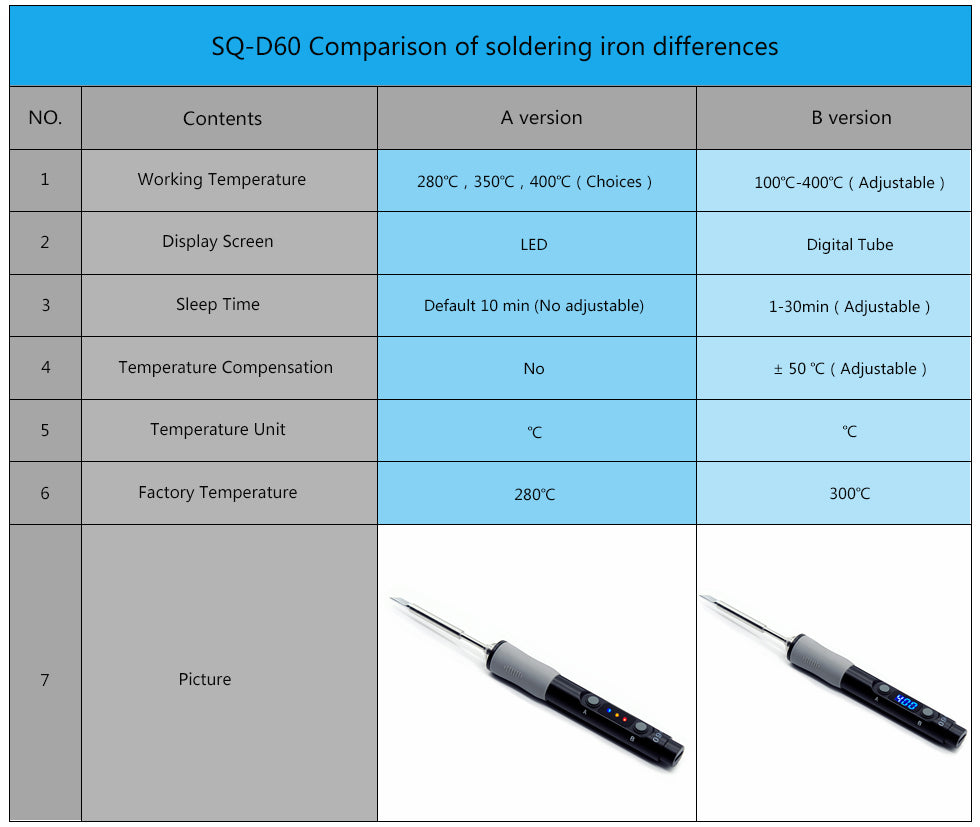 The SQ-D60 is equipped with a SQ001 soldering iron head and uses TYPE-C power supply, "A section" LED display and "B section" digital tube display.

Features:
SQ-D60 with humanized functions such as automatic sleep shutdown, induction wake-up, etc., it is a portable intelligent constant temperature electric soldering iron.
The operation is simple and easy, the temperature rises quickly and stably, and the round and small body is full of simplicity and luxury. It is an essential welding tool for electronic players.
Control terminal:
SQ-D60 adopts integrated TYPE-C power supply interface. The circuit design is stable and safe. The built-in STM32 processor, dual temperature sensor and motion sensor are the perfect combination to make SQ-D60 freely switch between various temperature ranges. Wake-up,  over-temperature and high-pressure alarm, etc., truly realize intelligent intelligent constant temperature electric iron.
Heating end:
* The heating end uses an internal heating core
* Temperature range: A version: 280 ℃, 350 ℃, 400 ℃(Choices)
                        B version: 100-400 ℃ (Adjustable)
* Temperature stability range: ± 5 ℃
Safety instructions:
Please use proper power supply and accessories to ensure safe use.
Before replacing the soldering iron head, you must cut off the power.
Do not touch the tip of the soldering iron after the temperature has risen to avoid burns.
The electric soldering iron is used for the first time. It may be slightly smoked due to the heating of the heating element. This is normal.
Packing list:
1 x Mainframe
1 x Soldering Iron Tip (K)
1 x Conversion Line
1 x Instruction Manual
1 x Soldering Iron Stand
1 x Hex Key
1 x XT60 Power Cable
Please read all the items in this warranty before submitting a claim with HGLRC customer service. Failure to do so will result in claim being delayed or may be rejected.
HGLRC warranty
HGLRC guarantees this product to be free from defects in materials or workmanship for 60 days from the original date of purchase verified by sales receipt (not when product started to be in use).
 Warranty claims will not cover the following:
No purchasing record from HGLRC orauthorized dealers
Cut off original power plug or not using reverse polarity protected plugs
Wire damaged
Any crash damage
Humidity/Water inside
Mechanical damage of electronical components/PCB
Soldered on the PCB (except on external solder-tabs) and incorrect soldering
 If you have issues with soldering to smaller components…. STOP. Please seek professional assistance  before attempting.
Connected speed-control with reversed polarity. There are special components that are in use to detect when this happens.
  No warranty shall apply to any product that has been subject to misuse, improper testing, assembly, mishandling, or which has been operated contrary to current instructions relating to installation or maintenance or operation from the use of any equipment purchased form this store.
It is the buyer's responsibility to use the items safely and legally and to take proper measures to prevent any damage to person or property from the use of the equipment.
Repair Service
Please report any problems you are having to us via a support ticket from the product purchasing account. Please do not ship items back prior before contacting us and receiving a return authorization.
*Repair available in China, Europe & US
*Out of 60-day Warranty Period may be accepted
*Damaged item reparable or not will be assessed
*Free charge for repair excluding shipping
*The duration of the repair will depend on the extent of the damage and the availability of its parts.
Return Policy (RMA)
*RMA# (to be issued to you)
*30 days for return from the date of order delivered
*Purchasing record is required
*Shipment of incorrect product by fulfillment mistakes will be accepted
*Returned items that are rendered unsellable as a new product will be rejected.
Returns of opened packages may be accepted under some rare situations, but may be subject to a restocking fee or rejected depending on the condition of the items.
Customers returning defective items will receive either a replacement, a store credit, or a refund. Orders are eligible for refund up to 30 days after after the order delivered, otherwise store credit or replacement may be issued.
Returns of products in good working order will receive a refund for the price of the item only, not the shipping costs.
Full refund requires:
*Within 30 days of
order delivered
*Product in new condition with no wear
*All packaging included and intact
As parts of complex systems, failure of one component can result in a crash or damage to other items. HGLRC is not responsible in any way, for damage to other equipment due to a failure of a component in a system. 
People who bought this product, also bought
WORLDWIDE SHIPPING
We ship worldwide with flexible shipping methods.
Prompt Customer Service
Some companies think if your problem doesn't seem that bad they can wait a few days to reply…. We get back to you fast so you know when your problem will be resolved.
US/EUR Repair Centers
US and Europe based repair centers. You can get your quad fixed quickly if anything goes wrong. More repair centers are coming soon...
100% Satisfaction GUARANTEE
We want you to be completely satisfied with our services. We will do whatever it takes to make you happy. No hassles, no problems.