HGLRC is well known manufacturer of the RC components. It has one of the widest selection of flight and speed controllers. In this review we will look closer at one of their products – HGLRC FD435-VTX.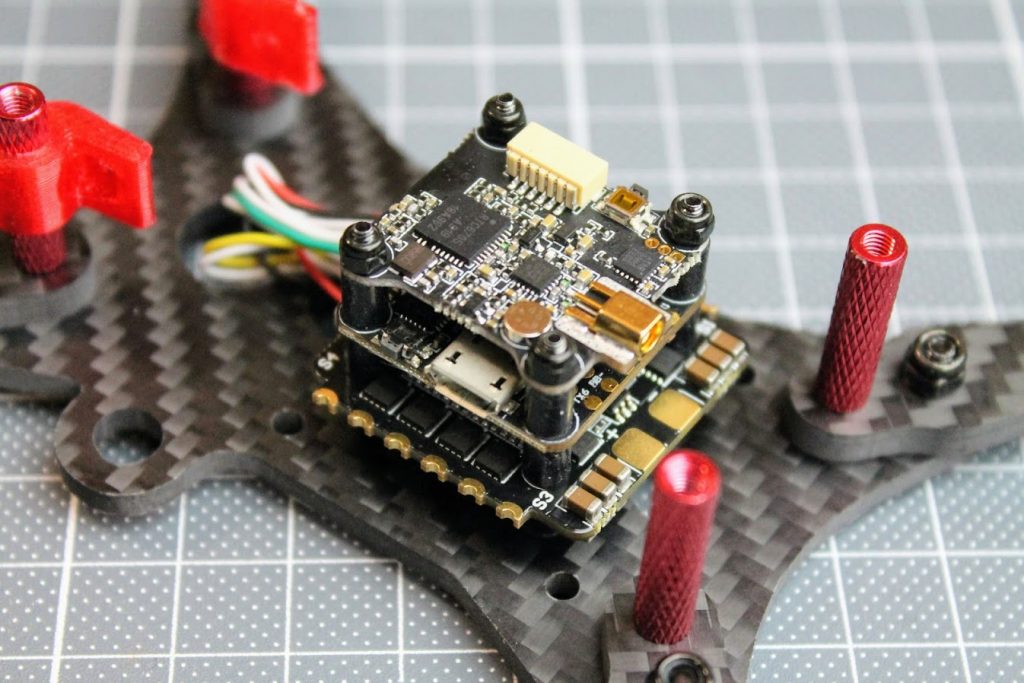 Specifications:
HGLRC FD F4 Mini Flight Control
CPU: STM32F405R6T6
MPU: MPU6000-SPI
Input Voltage: 2-6S Lipo 
Built-in Betaflight OSD to adjust PID
BEC Output: 5V@3A
Size: 25.0×25.0mm
Installing Hole: 20X20mm,M2
Weight: 4.2g
HGLRC FD 35A 4in1 BL32 3-6S ESC
Input Voltage: 3-6S Lipo
Constant Current: 35A
Peak Current: 40A(10s)
BEC Ouput: NO
Size: 36x36mm
Installing Hole: 20x20mm,M2
CPU:STM32F051
MOS Tube: TOP QUALITY MOSFET
Support Damped Mode:
DSHOT1200/600/300/150/Oneshot125/42,MultiShot
Weight: 6.5g
HGLRC FD VTX Mini
Output Power: PIT/25mW/100mW/200mW/350mW Switchable
Control Mode: BFOSD Control/Button
BAT: 7-26V (3-6S)
BEC: 5V 1A
250mA—-350mW
Video System: NTSC/PAL
Antenna: MMCX
Size: 24*27mm
Installing Hole: 20x20mm,M2
Weight: 2.7g
HGLRC FD435-VTX is full stack with Flight Controller, 4in1 ESC and VTX.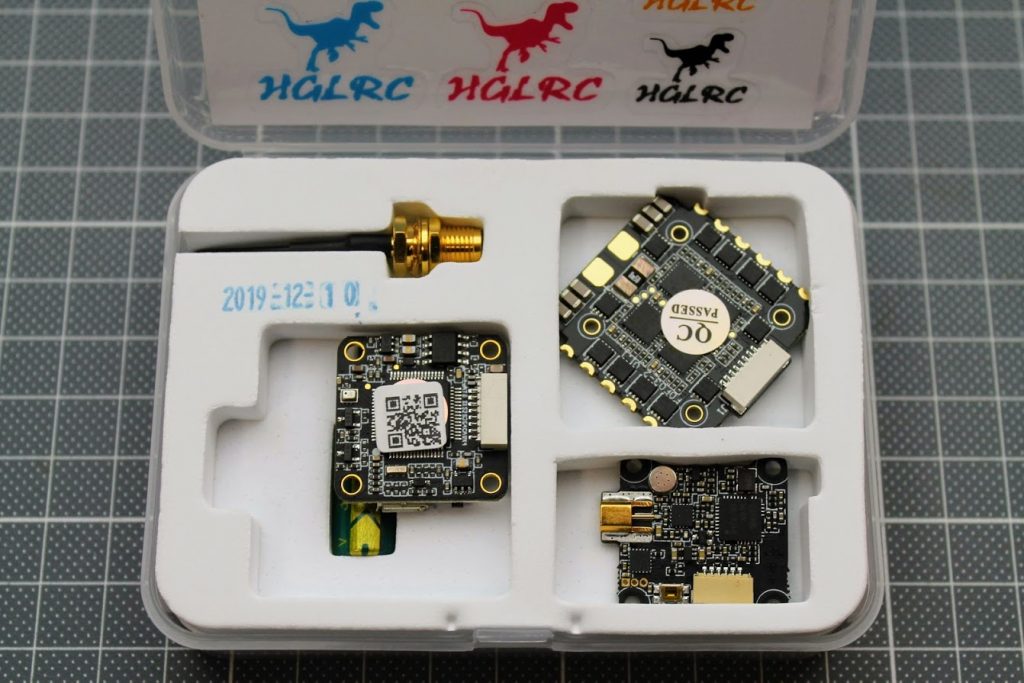 Package contents: FC, 4in1 ESC, VTX, screws, silicone rubber spacers, cable set, low ESR capacitor, XT30 pigtail, MMCX linear antenna and MMCX to SMA (RP-SMA) pigtail.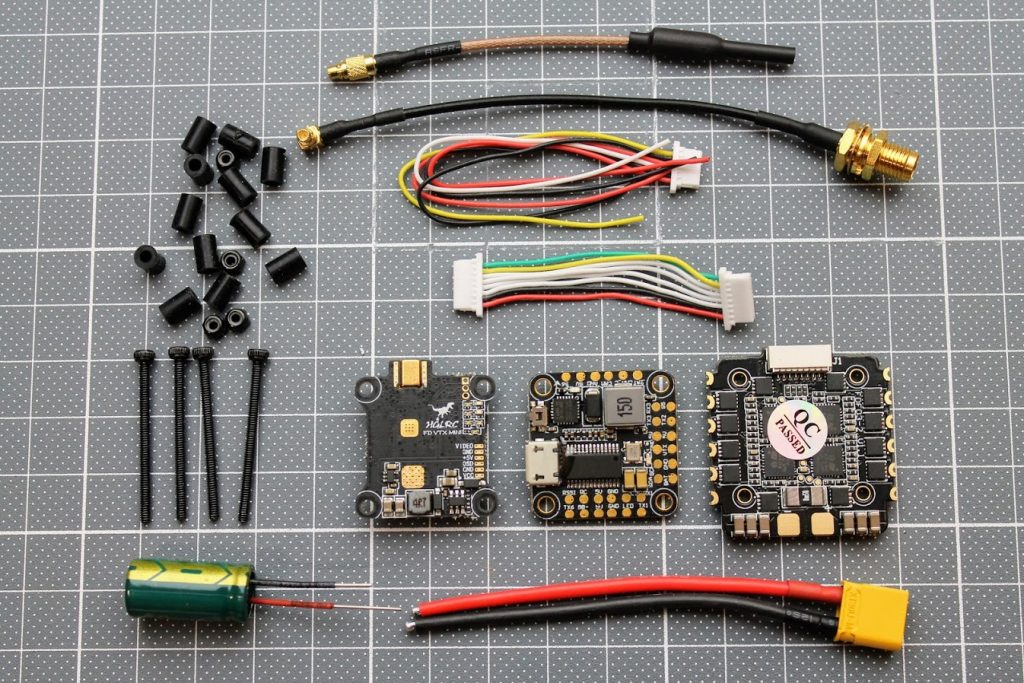 Closer view of the HGLRC Forward FD435-VTX stack boards.
HGLRC Forward F4 flight controller has F405 MCU, MPU6000 gyro, connected via SPI interface. Is capable of accepting 2-6S battery input.
The weight of the HGLRC Forward F4 FC is 4.2 grams.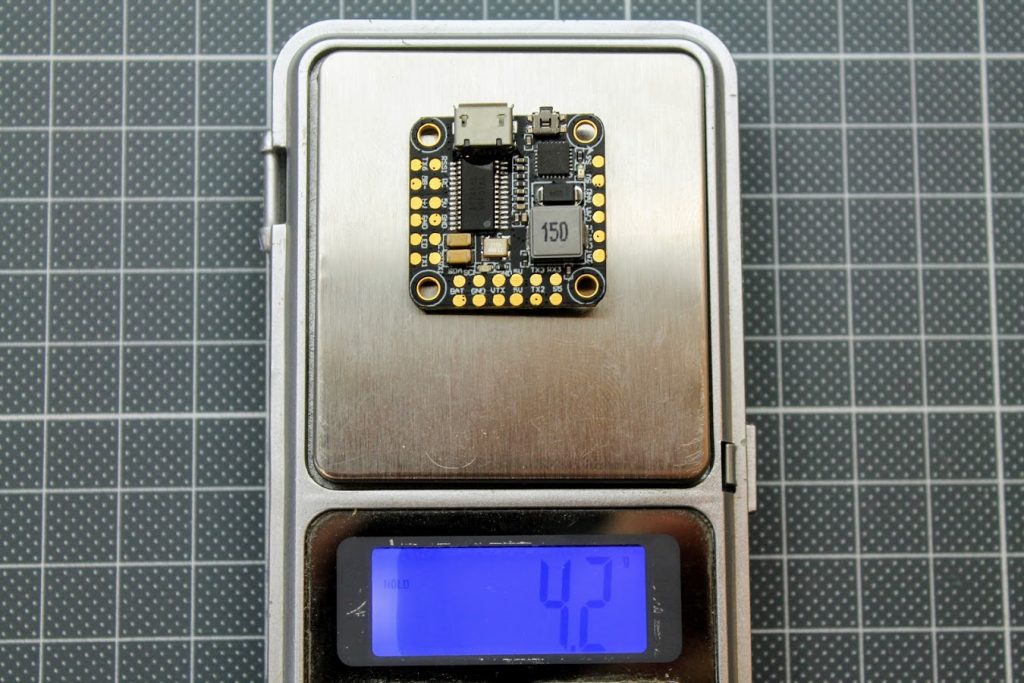 HGLRC Forward F35A 4in1 ESC is capable of 35A  (40A burst) output while accepting 3-6S Lipo input. It has current sensor, but has no BEC on board. Forward F35A runs on BLHeli_32 firmware and is capable of sending the ESC telemetry back to the FC, enabling the RPM filtering. 
The weight of Forward F35A is 6.5 grams.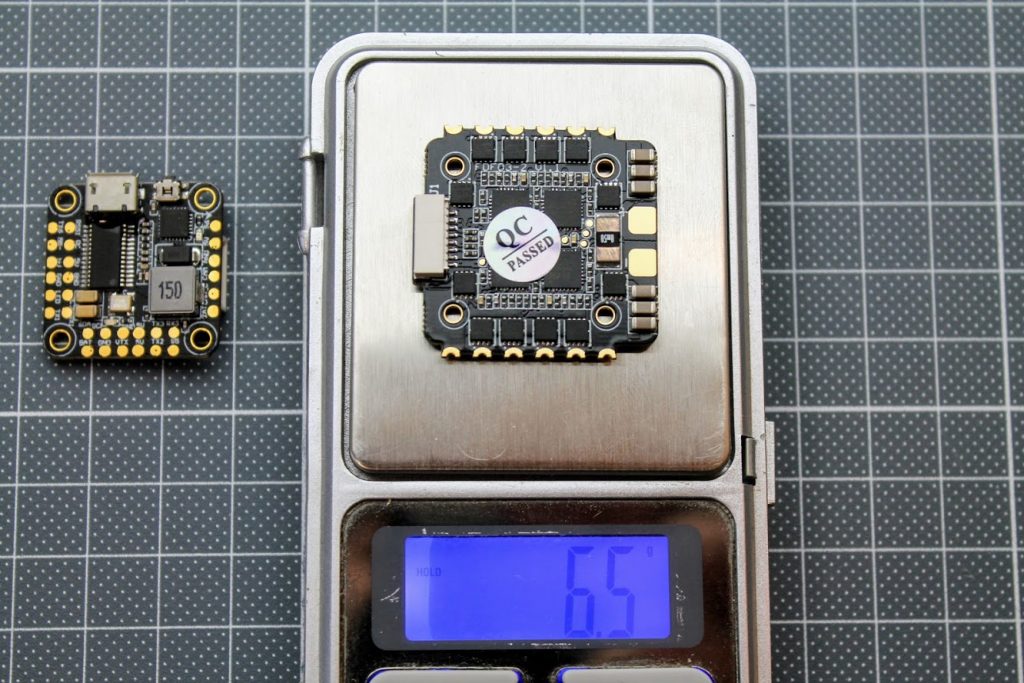 HGLRC Forward VTX Mini has 4 power levels 25/100/200/350mW and has Pit mode with 0mW output. Channel, band and power level setting is controled via Betaflight OSD or push button. VTX Mini has microphone on board and is capable of transmitting the sound along the video feed.
VTX Mini weights 2.6 grams without antenna.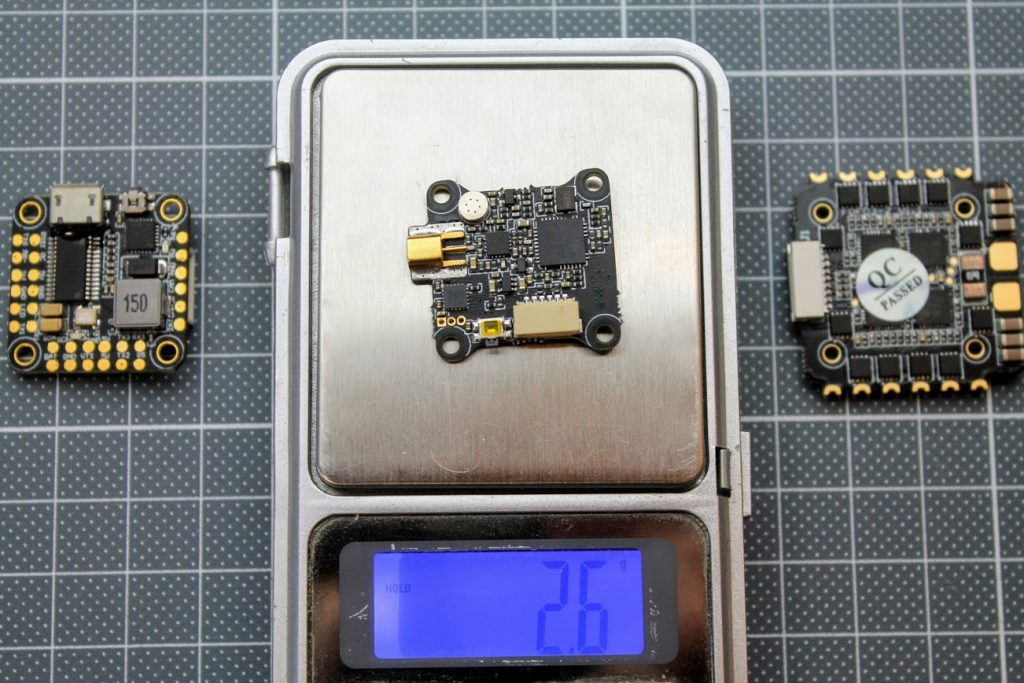 Total stack weight is 17.4 grams without wires.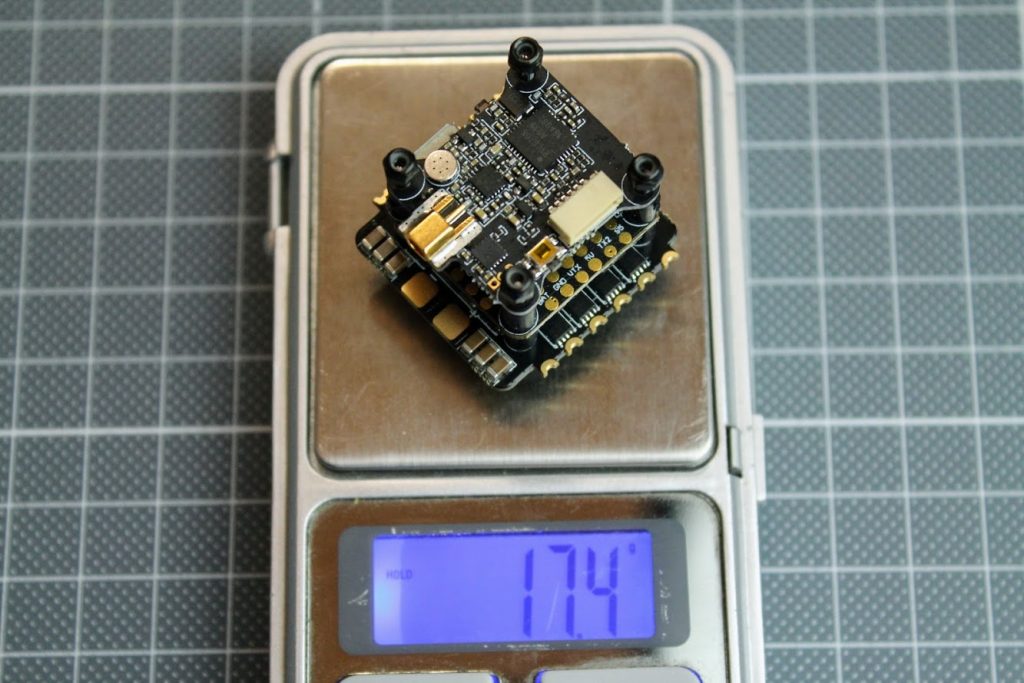 And total weight of the stack with wires and 2mm metal screws is 18.9 grams.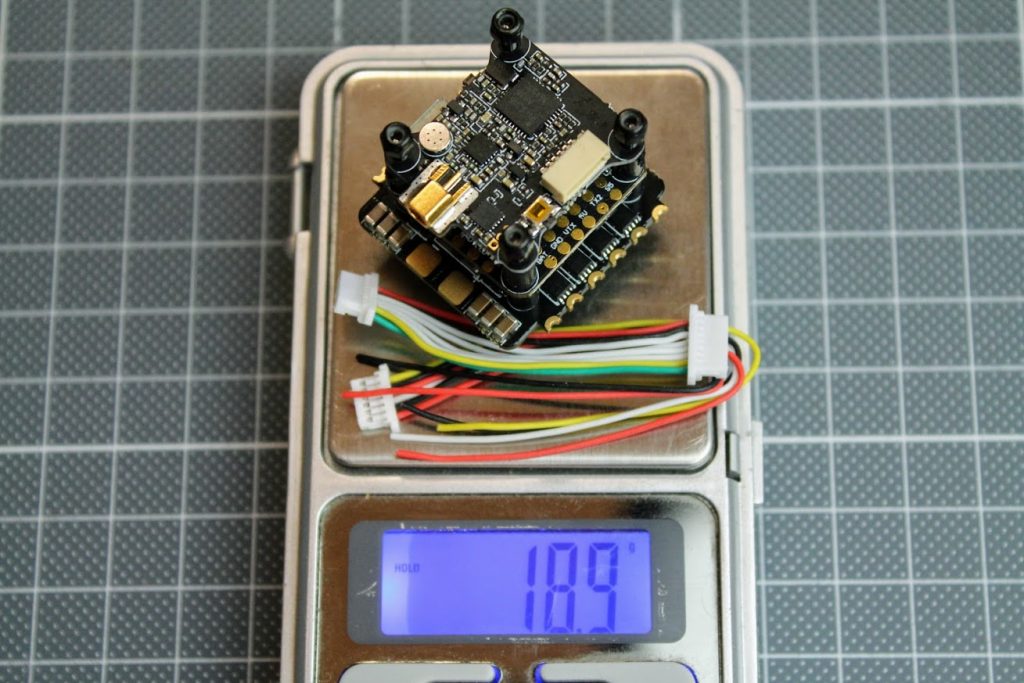 Forward FD 35A ESC has arc curved solder pads that are convenient for soldering the ESC wires vertically.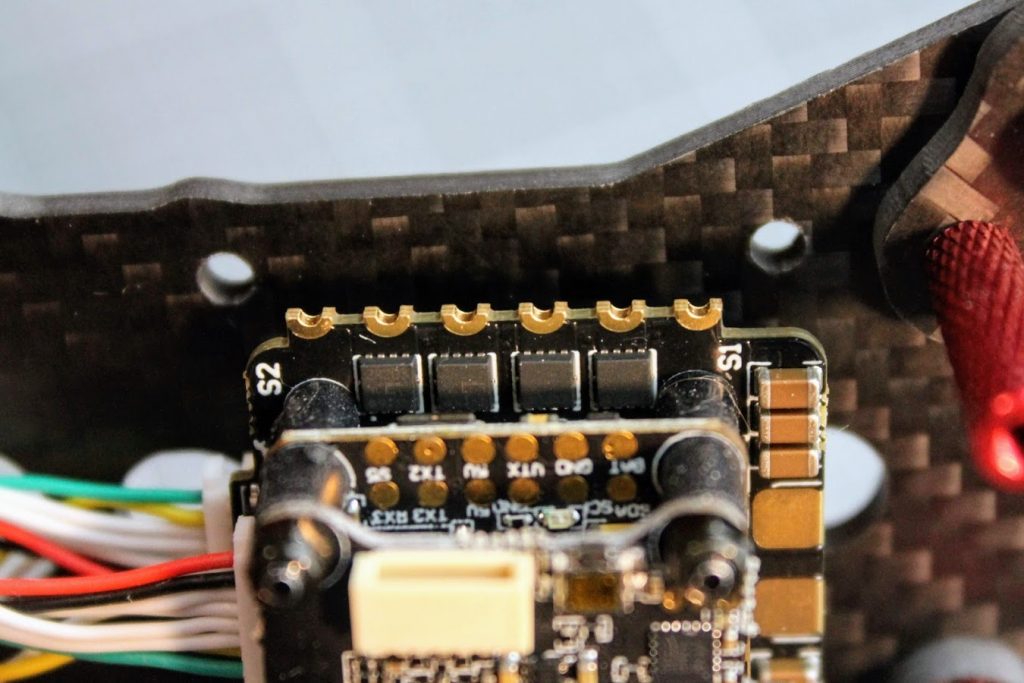 You can see the 6 layers of the copper by looking at the side of the motor solder pads.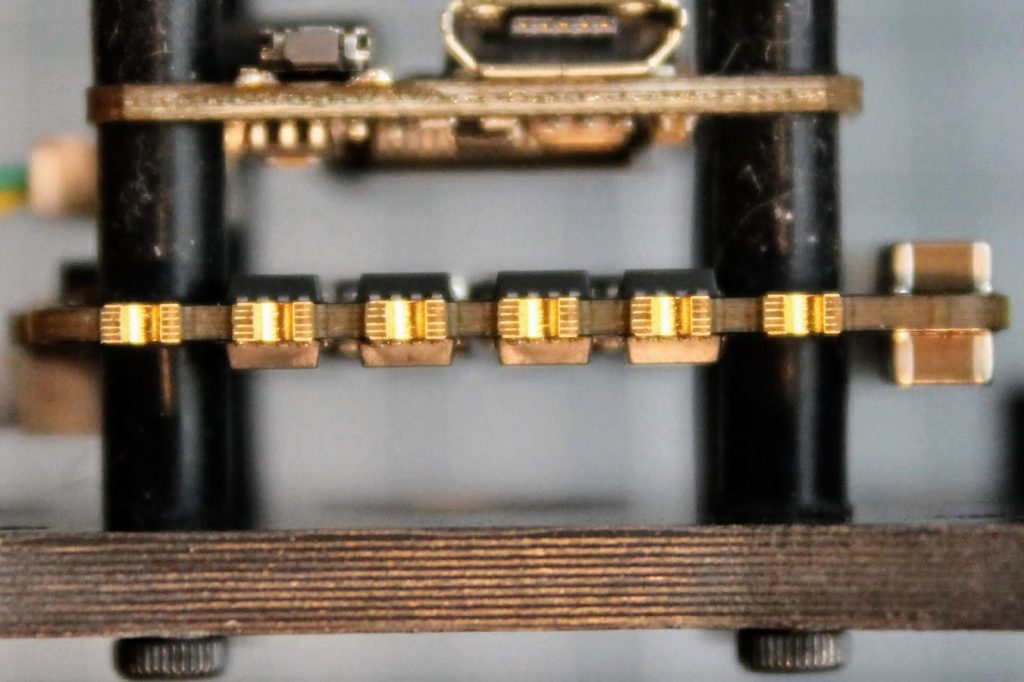 Setting up the HGLRC FD435-VTX 
Port definitions:
UART1 is for receiver telemetry (S.port) or uninverted receiver input (iBUS)
UART2 is for VTX Betaflight control
UART3 is for GPS or other peripherals
UART4 is for ESC telemetry 
UART6 is for inverted serial receiver input (SBUS)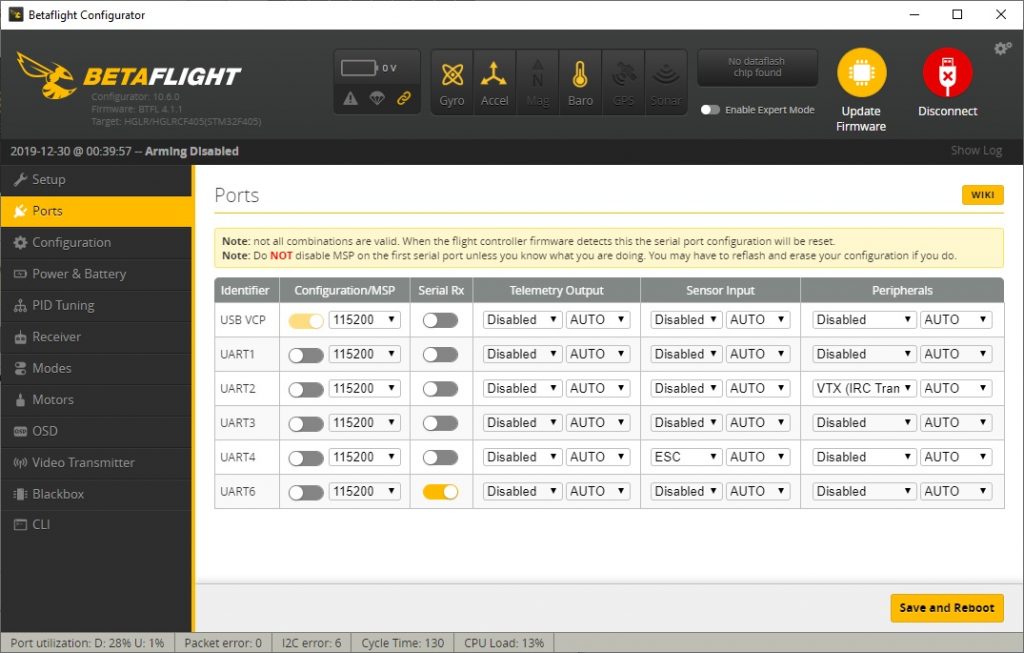 HGLRC FD435-VTX connection diagram: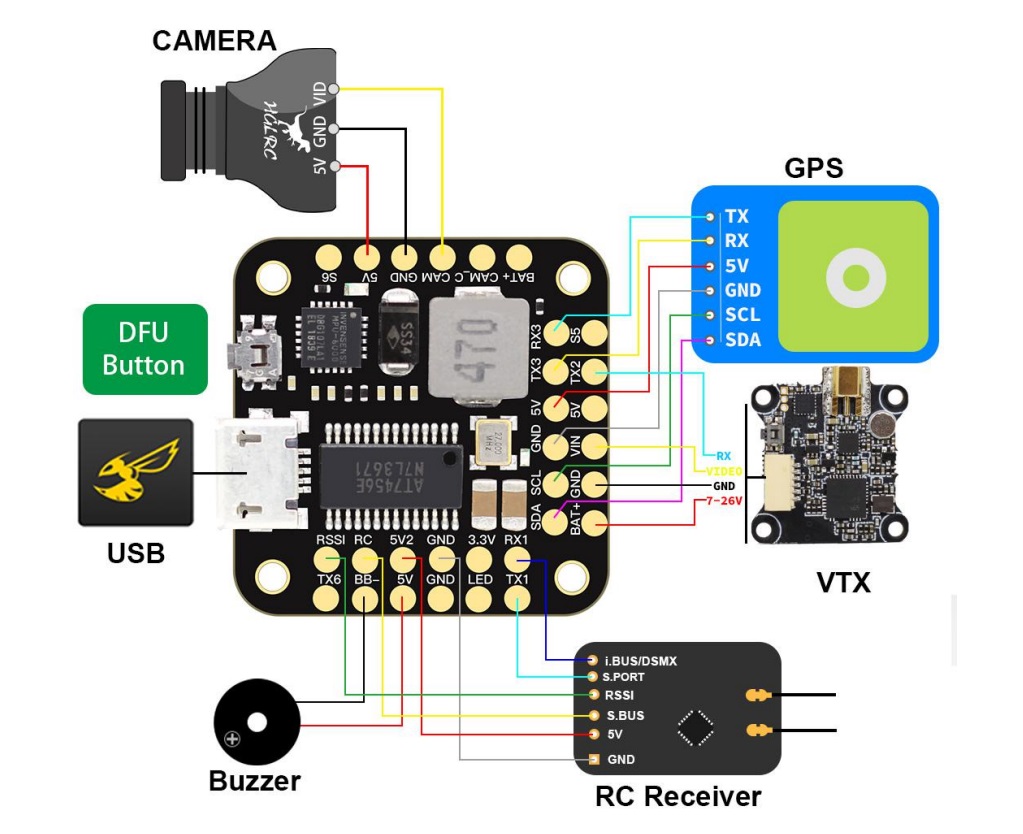 HGLRC FD435-VTX stack user manual: https://cdn.shopify.com/s/files/1/2672/8290/files/FD435-VTX.pdf
HGLRC FD435-VTX flight controller comes with the Betaflight version: 4.1.1 . So there is no need to update at the moment of writing this article, but if you will need to upgrade firmware target is OMNIBUSF4V6 or OMNIBUSF4V6 (AIRB) if using BF higher than 4.0. 

HGLRC FD 35A 4in1 ESC runs on the BLHeli_32 firmware. ESCs have BLHeli_32 telemetry and should be enabled in ESC_SENSOR setting. You should also check if the number of the motor poles (magnets) is set correctly: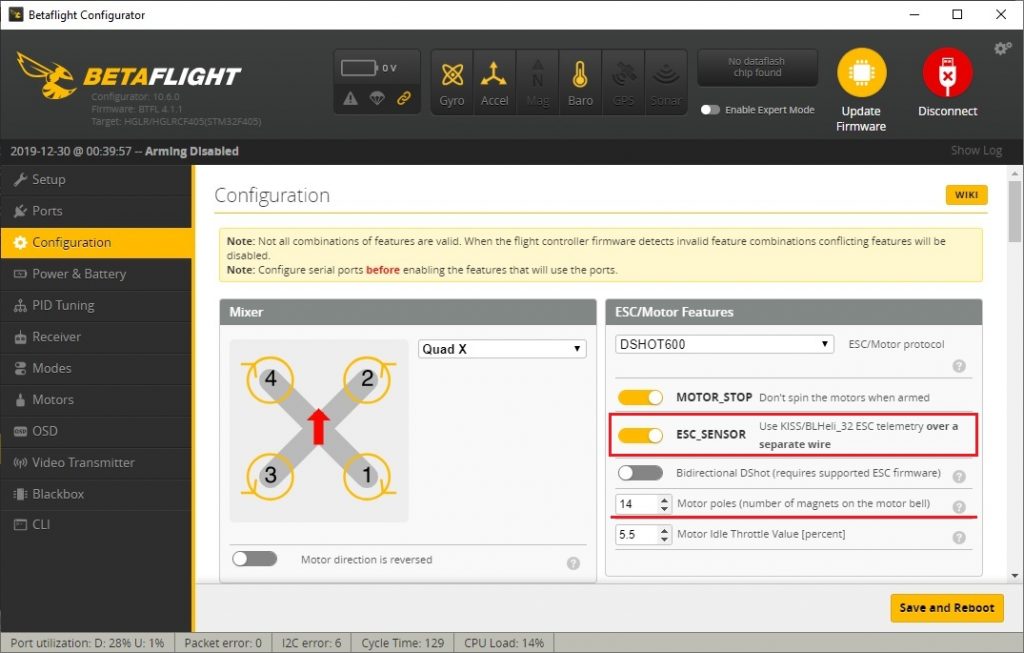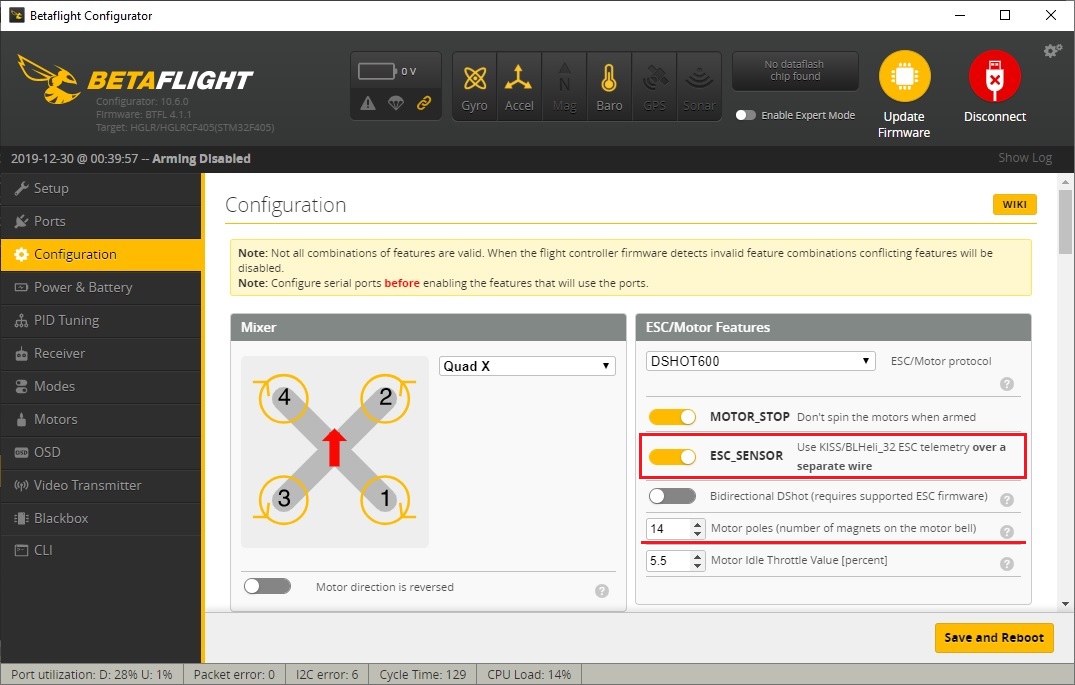 Also ESC telemetry input should be enabled in the Betaflight Configurator Ports tab under UART4: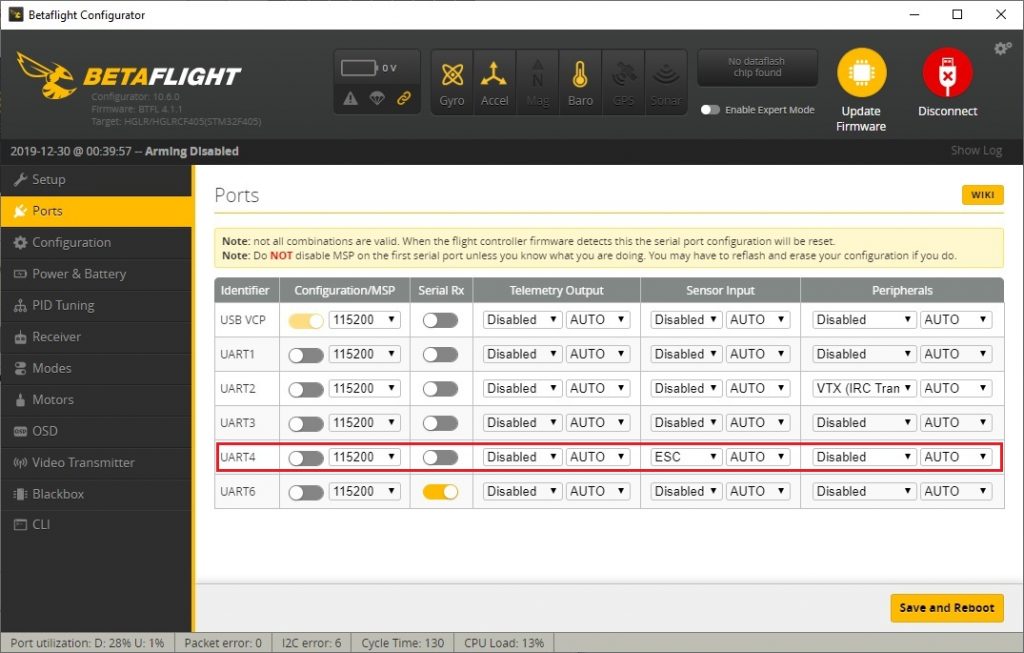 If you want to update the BLHeli_32 firmware to the latest, you will need the BLHeliSuite32. You can find BLHeliSuite32 here:
https://drive.google.com/drive/folders/1Y1bUMnRRolmMD_lezL0FYd3aMBrNzCig
Open BLHeliSuite32, press [Read Setup] then [Flash BLHeli] and select the newest BLHeli_32 firmware.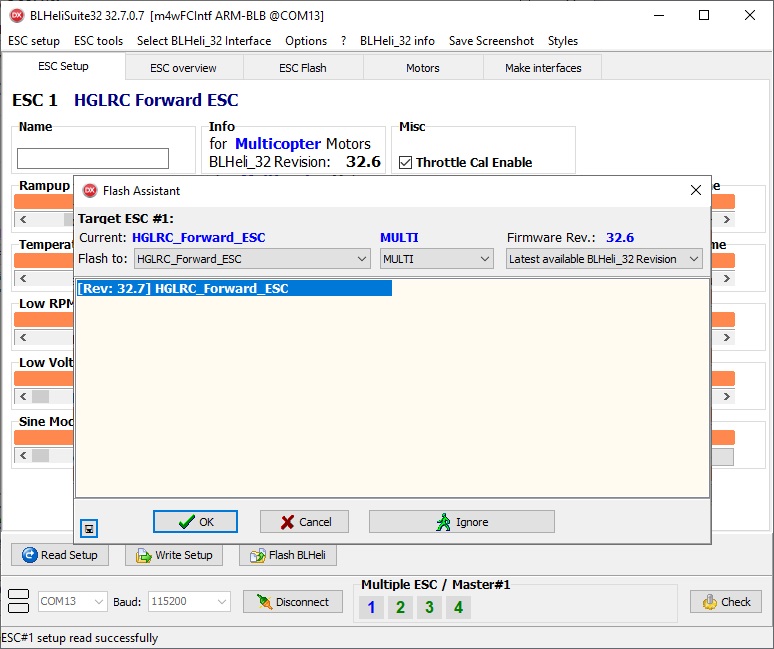 After flashing is complete you should see the information of all the 4 ESC with the new version.
Battery voltage and current sensor divider settings: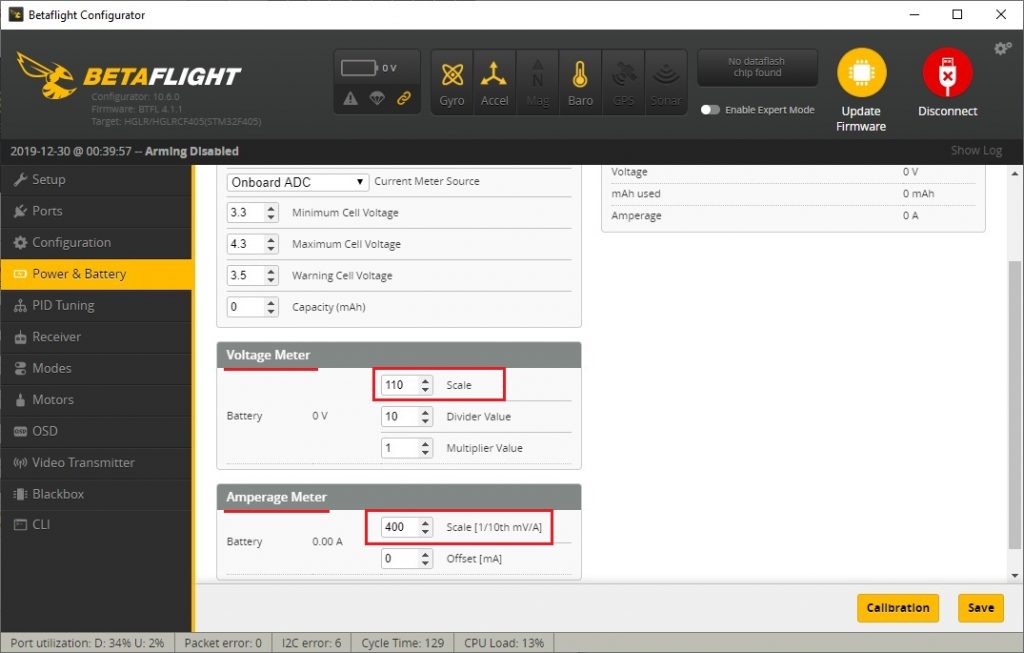 Conclusion, final thoughts
HGLRC Forward F4 flight controller is connected to the Forward F35A ESC via cable connector, so no soldering is needed, however you need to solder the connecting wires if you wan to connect the Forward VTX-Mini to the stack. I would like if the wires were presoldered already from the factory. 
FD435-VTX stack has 4in1 ESC, running BLHeli_32 firmware and this allows to use the RPM filtering for smooth flying. Only a few 20x20mm sized stacks have ESCs with BLHeli_32 firmware. This adds more value to this stack. 
HGLRC FD435-VTX is a complete stack perfectly suitable for smaller 3-4 inch quads (because of the smaller 20x20mm boards size) but also can be used in the lighter 5 inch quad builds.